Theatre Arts
KCS believes the theatrical arts will enhance academic and social development of our students by providing opportunities to explore and hone skills related to public speaking, expression, dance and choreography, voice projection, visual arts and music. In the process we hope to prepare students to become well-rounded citizens by also promoting the less quantifiable traits, such as leadership, teamwork, organization, commitment and service.
The dramatic arts contribute to the education of the whole child, by stimulating imagination, creativity, reasoning, expression and communication. KCS believes an expanded fine arts program will enhance literacy in many forms, because participation requires the child play an active role with an applied mind.
With this in mind, KCS began a Drama Club in the fall of 2005. This initial venture into the dramatic arts was a resounding success and expansion opportunities were explored. In June of 2006, KCS was awarded a 3 year, $15,000 grant designed to expand the Drama Club into a functioning Drama Department.
In 2007, KCS students presented "School House Rock - Live" to great reviews!
In 2008, they presented "The Adventures of Peter Rabbit and His Friends."
In 2009-10, they presented "Seussical, Jr."
The 2010-11 Drama Team production was "Annie, Jr."
"Willy Wonka, Jr." was presented in 2011-12.
This year's production is Disney's The Little Mermaid, set for November.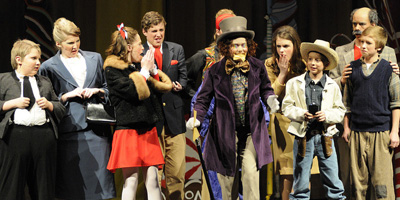 God continues to bless this adventure by providing opportunities and energy for all involved. We look forward to what He has planned for us next.
To view photos from Willy Wonka, Jr., please click here.
To view photos from Annie, Jr., please click here.
If you would like to view photos from Seussical, Jr., please click here!